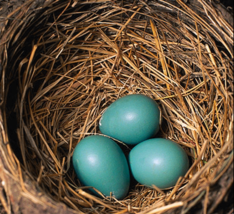 We spend a lot of time focusing on ground level for animals like raccoons and rats but every now and then we need to look up.
Starlings and migratory birds come back every spring and if there are damaged vents in the soffit or eaves of your home you're going to have guests.

Squirrels also attack these vents so it's important to keep them in good repair.

The screen installed when your home was built had a life expectancy of about 10 years. Even less if you live near the ocean.

Replacing damaged screens with wire mesh can buy another 10 years, but if you must repair vents and can afford it, it is best to upgrade to a continuous vent.

This usually involves covering the underside of the eaves with plywood and installing a single vent about 2 inches wide the entire length of the roof just behind the fascia. (the part that holds the gutter).