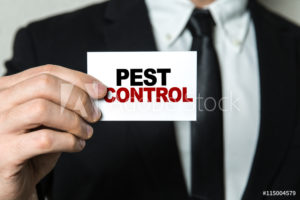 Ahh...Spring. As the sun starts poking through the clouds, I sit dreamily contemplating the critters poised to burst forth in their annual frenzy of mating and feeding. The little furry raccoons and mice lining their dens with fiberglass insulation. The carpenter ants adding new rooms to their nurseries. Odorous house ants setting up bivouac behind a toasty night light. The buzzing of the wasp & mosquitoes. Almost enough to make the bug guys heart flutter…hmmm…
Oh! Sorry about that.
You know, when mother nature decides to move in with you, you are going to need help but how do you find someone you can trust?
Of course, you want to find a reputable company, but since every industry has a few bad apples how do you avoid becoming a victim?
Here are some things to consider when you go shopping.
Unless you are scheduling around a remodeling or repair project there are few pest control issues that might qualify as emergencies. (yellow jackets are a possible exception.) Reputable companies will not pressure you into accepting immediate service. You should have an opportunity to determine the severity of an infestation and assess the treatment options available.
Never be afraid to ask questions. It's your home, your health, and your money.
Get competitive estimates. If there are large price differences between companies there should be a clear explanation as to why . Just remember, there is a direct relationship between price, quality and service. The best price usually comes at the expense of quality and service. The best service and quality come at a price.
Get referrals. Pests tend to inhabit an environment not individual houses. Chances are your neighbors have dealt with similar pests and can refer someone they trust. Make sure the person making the referral has actually done business with the company they refer or has personal knowledge about their performance.
Check credentials. Wa. State Dept. Of Agriculture has a website at "http//agr.wa.gov/PestLicense" that lists current license status, what type of pest control they are qualified to perform, even a list of the licensed employees for that company. Click on the link marked " Search for a new license record". No license usually means no insurance. Every pest control technician is required to carry a license on them issued by the Department of Agriculture. Also, consider checking with your city dept. of licensing to see if the company has a business license for your community. Business that cheat on licensing often exhibit similar attitudes toward their clients.
Confirm who is going to perform the work. Many companies have professional salesmen that don't actually perform services. If the salesman isn't the one performing the services make sure you determine who to contact within the company to answer questions.
There are some practices that should set off alarms:
Scare tactics such as raising fears about possible collapse of your home or the rapid destruction of valuable property. If collapse is eminent there is no treatment that can fix it. Only a licensed contractor can effect repairs.
Alarming you with stories that infestations are occurring in neighboring homes. While neighborhoods may share insect/rodent populations that does not imply that all homes will be infested equally. The type of construction, age of your home and quality of maintenance are just a few factors that will separate your home from your neighbors.
If a company suggests their services at your home be kept a secret. The only purpose for secrecy is to create a window of opportunity to take advantage of additional unsuspecting neighbors.
Door to door canvassing. This can be a legitimate marketing tool but is often associated with the need to net as many victims as possible before being exposed.
Pressuring you into immediate service with a story about it being cheaper because the chemicals are already mixed in the truck. This is unlikely since technicians routinely prepare products for individual services.
If after all these precautions you still manage to get taken, there is something you can do before getting an attorney or throwing in the towel. Every county in Washington has a Department of Agriculture co-operative extension service. This service is free (paid by your tax dollars) and is staffed by experts who can assist with pest identification or, if needed, tell you where to register complaints. Additionally, the National Pest Management Association and Washington State Pest Control Association are good resources for information on recognized treatment techniques and ethical standards for the pest control industry.
Now let's see, where was I? Oh yeah! "The ants go marching one by one…"