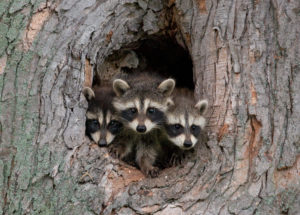 Raccoons are common throughout Washington state and can inhabit any location that has access to water.
Raccoons can live in excess of a decade in captivity but predators, automobiles, disease, and competition with other raccoons typically reduce that to about three years in the wild.
Raccoons mate in late winter to early spring and carry their young for about nine weeks. Mothers usually produce litters of three or four kits.
Young remain in the den for about seven weeks before being able to accompany their mother on foraging excursions. They will usually remain with mom through their first winter and disperse in early spring.
Raccoons are carnivores but will eat just about anything. They prey on mice, rats, birds and other small animals. They steal eggs, eat fruit and vegetables, and dig for soil grubs, insects and worms.
They are also great scavengers and will raid pet bowls, bird feeders, trash cans and gardens.
Food is the biggest limiting factor to raccoon populations. Feeding pets indoors, removing bird feeders, keeping tight lids on trash cans and not mulching table scraps in open heaps helps keep populations from growing out of control. Intentional feeding is the most common reason for negative encounters with them. Feeding supports an artificially high population that creates pressure for other necessary resources. This population pressure leads to competition for den sites. If they can find an opening they will move right in with us.
Raccoons don't jump but they are phenomenal climbers. Trees, roof support posts, deck rails, downspouts, tall fences and steps that pass roof lines can provide easy access to the roof where these animals frequently rip off shakes or vent flanges to get into attics. Many of these accesses can be defeated but if the problem is architectural a metal roof may be the best solution.
Chimneys are also popular den sites. A chimney cap or broad metal band placed four feet above the ground can often exclude them.
Pound for pound raccoons are much stronger than we are. They can lift crawlspace covers, tear out foundation vent screens and dig under footings. All are vulnerable and should be kept in good repair. The crawlspace access should be fitted with a panel secured with screws or barrel bolts. A cover setting on a soil retainer is easily lifted. Foundation vents should be kept in good repair and upgraded at the first sign of corrosion.
Foundation footings should be buried a minimum of eighteen inches deep with compacted gravel or soil to discourage digging. Removing lattice work or skirting from decks exposes the animals to light and predators reducing the opportunity for them to dig.
Once a raccoon has had babies in your home you really only have two choices. Wait till the kits mature enough to go out foraging with mom and seal the opening behind them (never before September) or go in and remove the kits and force mom to relocate them (this should only be done by professionals). The second option becomes less viable if the animals are in a wall void or other inaccessible area in which case you're back to option one. Never attempt to seal a building without insuring all animals are removed or young may be stranded inside the building and die.
Trapping, relocating, or destroying the animals is impractical and in many cases illegal. The elimination of one animal does not eliminate the surrounding population which will promptly take advantage of the resources left by the removal.
Additional useful information about raccoons can be found on the Wa. Dept. of Fish & Wildlife website at:
https://wdfw.wa.gov/living/raccoons.html#conflicts