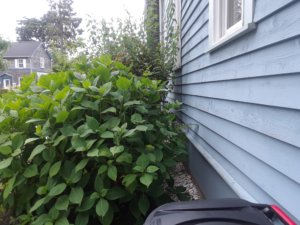 With Spring just a soggy memory it's time to get out the garden tools and do battle with the jungle surrounding the house.

Tree branches touching the roof encourage rodent activity and can allow insects to bypass applications made to your home.

Trim branches to create a minimum clearance of 5 feet and in areas where squirrels are active clearance should be increased to 10 feet.

Vegetation growing against the siding of your home creates harborage for rodents and insects which can invade your home. They also block air flow along the siding increasing its moisture content and making it vulnerable to decay and insect damage.

Trim vegetation to create 12 inches clearance along the siding. Bushes should be trimmed 12 inches up from the base and all leaf litter should be raked out.